Can't Find a link to Denticon Login? Don't worry we can help you with that.
We at youshouldlisten.com provides the guide for login at different platforms. We came across the problem that employees at various DOS finds it difficult to login at denticon. Well, in this guide, I am going to show you how to login at denticon and how you can bookmark the page of login.
DENTICON LOGIN PROBLEM 
The problem employee facing while doing the denticon login is they can not find the link. It is because when they open denticon.com they are being redirected to planetdds.com.
Planet DDS is the parent company of denticon and they have created this software. That's why employees are redirected to planetdds.com. The link to login into denticon software is also provided in the same website.
It is confusing to find the cloud based dental management software's login link when the main website is redirecting the users to another URL. They should have kept the login part at the denticon.com.
Denticon Login Guide 
This guide will walk you through the easy process of logging in to Denticon. You are searching for denticon employee login and reached this page that means you are already a client of planetdds denticon dental management software.
So, if you are already a client, you have to go to the website and click on "I'm a client" button. Once you do that you surely can find the direction. If you couldn't, then just follow this step by step process.
First of all open planetdds.com. Link.
Now you will see the webpage like below given image.
Now click on the button named "i'm a Client". I highlighted that button in the image.
Once you click on that button, you will be redirected to PRODUCT Login page.
Here you will see the login link of all the products planet dds provides.
There click on Denticon Login Button.
New Popup window will be opened, and you can enter your credentials from there.
Enter your login credentials and you are good to go.
Read this if nothing happens while clicking on login button: 
If nothing happens when you click on denticon login button then the issue is the popup setting in your browser is off. If you are using google chrome or microsoft edge browser then you must go to the settings and enable popup for the website.
To enable popup in your browser,
Go to the browser settings.
Find cookies and site permission or site setting,
There, find popup and redirects option.
If it's blocked, unblock the popup.
That's it.
Once you enable the popup, open the planet dds site and click on denticon login button again. The login page will be opened.
For the reference, Login page looks something like this: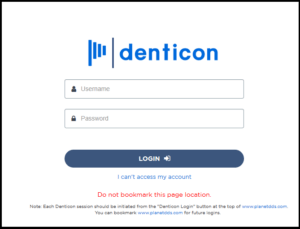 If you forgot your username or password, you can click on I can't access my account link and follow the instructions from there. It's pretty straightforward. You don't have to be a tech wizard to follow the instructions.
If you are still facing difficulties or problems, you can comment down below and describe it to us. We will try to find a solution and reply back to you withing a day.
Planetdds also has a chatbot which you can use to ask your questions. They have covered most of the queries in the chatbot. You just have to select your issues and you will reach the solution. There's another way to do the login which i will show you now.
If you find this Planet DDS Denticon Login process confusing, you can follow this simple process.
First of all open planetdds.com
Now scroll down and find the footer section at the end of the page.
Here in the support section, you can see the denticon login link.
Click on that and the login page of denticon will open in popup window.
The link to employee login is: https://www.denticon.com/aspx/home/login.aspx.
But for the security reasons, you must do the login by following the process. That's how planetdds recommends it.
Conclusion:
In conclusion, all i would like to say is that denticon is very reliable sofware accept it's login system. If they can improve that or include that in the software itself, it would be very easy to use. If we read some of the reviews about denticon, people are saying that its the all in one dental management software and whoever adepted the system they are loving it in terms of application and utility.
Another cool thing about planet dds denticon is that it works on the low end systems also. It even works on age old intel i3 processors. It runs smoothly on i5 or similar processors which is recommended by planetdds.com. You can check the system requirements for the software from the official website without even login.
Thank you for visiting us.